Are you in the market for a new linear gas fireplace but don't want to worry about the headaches of a wall overheating or placing a TV above the fireplace? Well, Valor has the solution for you!
Introducing the Valor HeatShift System™
The HeatShift System, with "cool wall" performance, is the answer for any customer installing a TV or artwork above the fireplace. Designed to reduce surface temperatures, the Valor HeatShift System is recommended, especially when adding a wall-mounted TV or heat-sensitive material directly above the fireplace. Raising the heat outlet improves conventional airflow – reducing wall temperatures and improving overall performance. Excess warm air is then circulated back into the room at a higher elevation.
With heat transferred above, it is now possible to run non-combustible finishing materials right up to the fireplace surround. Also incorporated was a sleek heat outlet or hidden wall valance, which provides a clean surface for heat distribution back into the living space.
---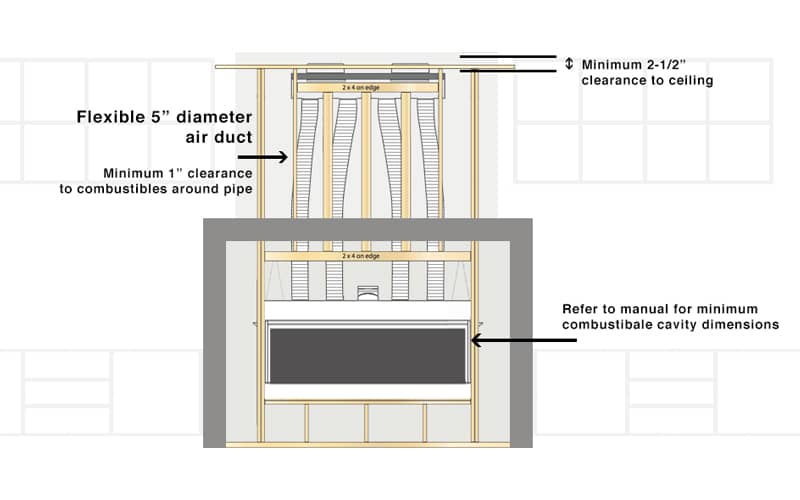 Behind the Wall
Here is a quick example of what the HeatShift could look like behind your wall using the 38″ Plenum Kit. The HeatShift System increases installation opportunities, promotes the convection of warmth and accommodates wall finishes with heat-sensitive materials.
---
Airflow
As shown above, heat is elevated naturally using gravity and Valor product ingenuity. Excess warm air is then circulated back into the room at a higher elevation.
---
Compatible Fireplaces
Currently, the HeatShift is available for all "J" Series linear gas fireplaces, which include the popular:
More large format fireplaces will be compatible with the HeatShift system in the coming months, so stay tuned for more updates. To learn more about the HeatShift, please click here.