When it comes to enjoying a gas fireplace in your home, safety is a concern whether we have little ones roaming around or pets who enjoy the comfortable warmth. When you're considering buying and installing a gas fireplace, it's essential to consider what safety features will be included with your purchase.
What Safety Considerations are there for Gas Fireplaces?
Gas fireplace Safety is a top priority. All of our fireplaces undergo rigorous testing at our in-house CSA approved lab. From there, we equip the fireplace with several safety accessories and features–without sacrificing performance.
All certified gas fireplaces manufactured after January 1st, 2015, will include safety screens or protective barriers to reduce the potential for accidental contact with the hot glass window surfaces.
It is recommended to keep furniture, draperies and other objects at least 36″ clear from the front of the fireplace. Never sit directly adjacent to the hot glass, or allow clothing or other material to come in contact with fireplace surfaces.
If your fireplace flame height hasn't changed and you haven't used your remote for 6 hours, your ValorStat Remote Control System automatically turns your fireplace down to pilot. Additionally, the 5-day pilot shutdown is ideal if you are away from home for an extended period of time or your fireplace is not being used during warmer spring and summer months.
---
What Can I Do To Make Sure My Gas Fireplace Is Safe For My Family?
Fireplace surfaces, in particular, the glass viewing window, can reach temperatures of over 500°F at full capacity and will remain hot for a short period of time after the fireplace is turned off. Contact with the hot glass can cause severe burns, therefore, close adult supervision is recommended when there are young children or at-risk individuals in the house.
Every Valor gas fireplace is equipped with a barrier screen that sits in front of the glass. As an extra layer of safety, install a safety gate around your fireplace to ensure that young children or pets are not given the option to get near the hot surface.
---
What Do Barrier Screens Do?
A Valor Barrier Screen is recommended at all times and is included with all Valor gas fireplaces. Valor's barrier screens not only promote safety but also emit radiant, comfortable warmth for your home.
---
Can I Turn Off My Fireplace If Needed?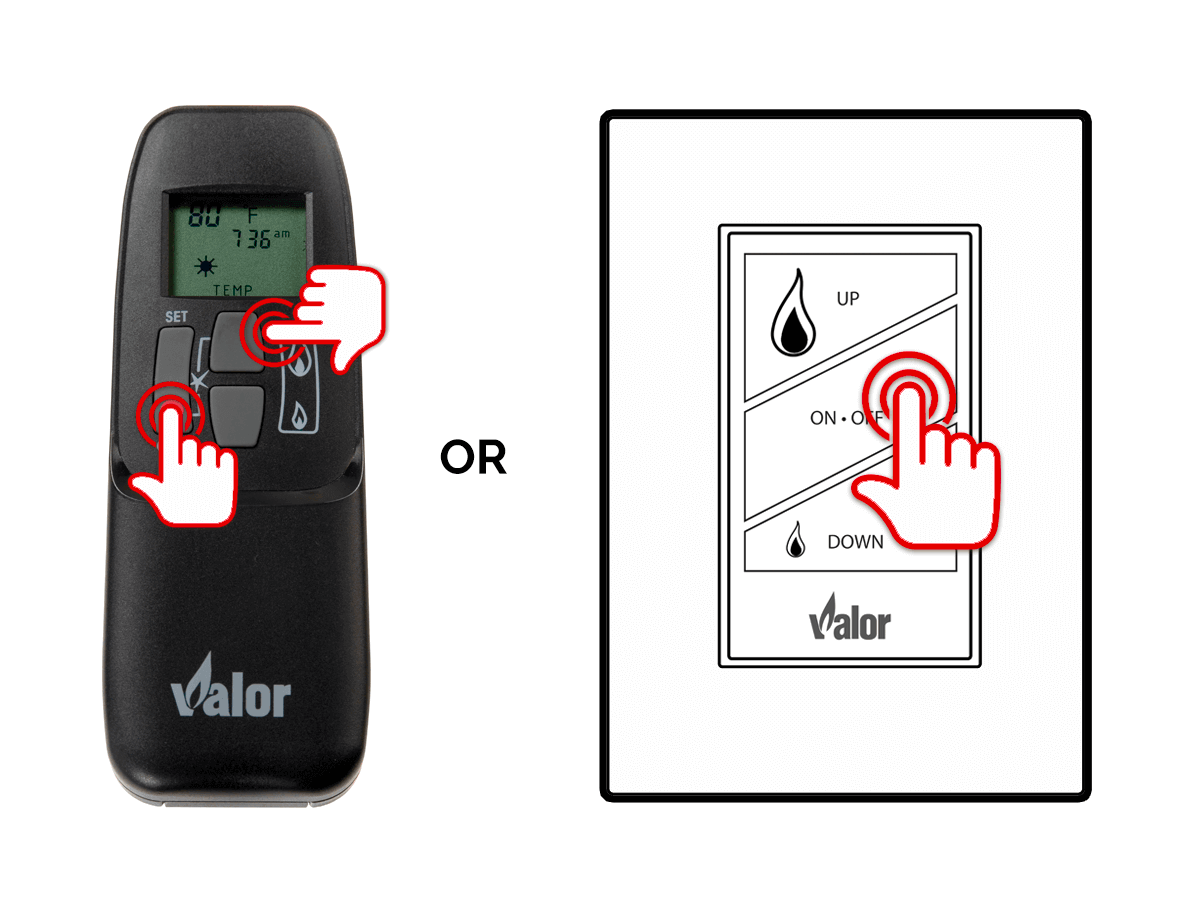 Yes! Easily shut down your fireplace by pressing the OFF button on the remote or the ON/OFF button on the Valor wall switch. For more information on the operation of your fireplace, please click here.
To shut down the pilot light of your fireplace, please refer to your owner's manual.
Valor makes safety a priority while giving you a comfortable and warm experience with your gas fireplace. For more information, click here.