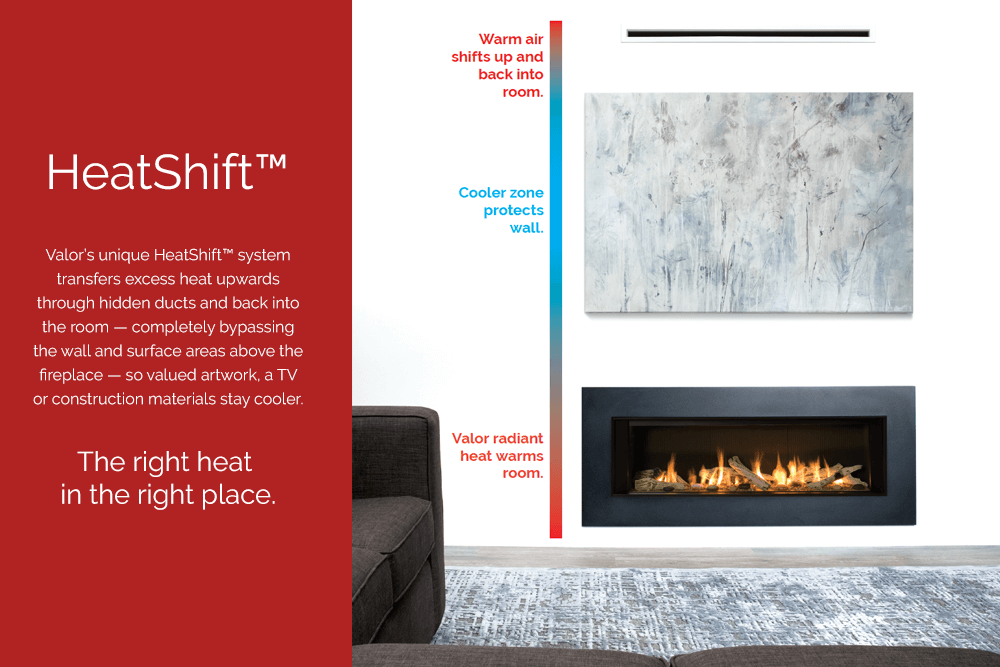 Are you on the hunt for a fireplace that allows you to install a TV or heat-sensitive materials above it? Look no further with the Valor HeatShift system – it's designed to reduce surface temperatures directly above the fireplace, maximizing home installation opportunities.
Advantages of switching to HeatShift with a Valor Fireplace
Reduce wall temperatures directly above the fireplace (ideal for mounting a TV or other heat-sensitive materials)
Run combustible finishing materials directly up to the fireplace, maximizing installation opportunities
Overall performance of the fireplace is improved due to the excess of warm air being circulated back into the room at a higher elevation
Up to 60% of fireplace heat rises and flows through the HeatShift System and back into the room
No reliance on electricity or a noisy fan operation (heat is elevated naturally using gravity and Valor product ingenuity)
Compatible Products
The HeatShift System is currently available on the following Valor gas fireplace products:
Learn More
For more detailed information, manuals, images and more please visit valorfireplaces.com/heatshift.